New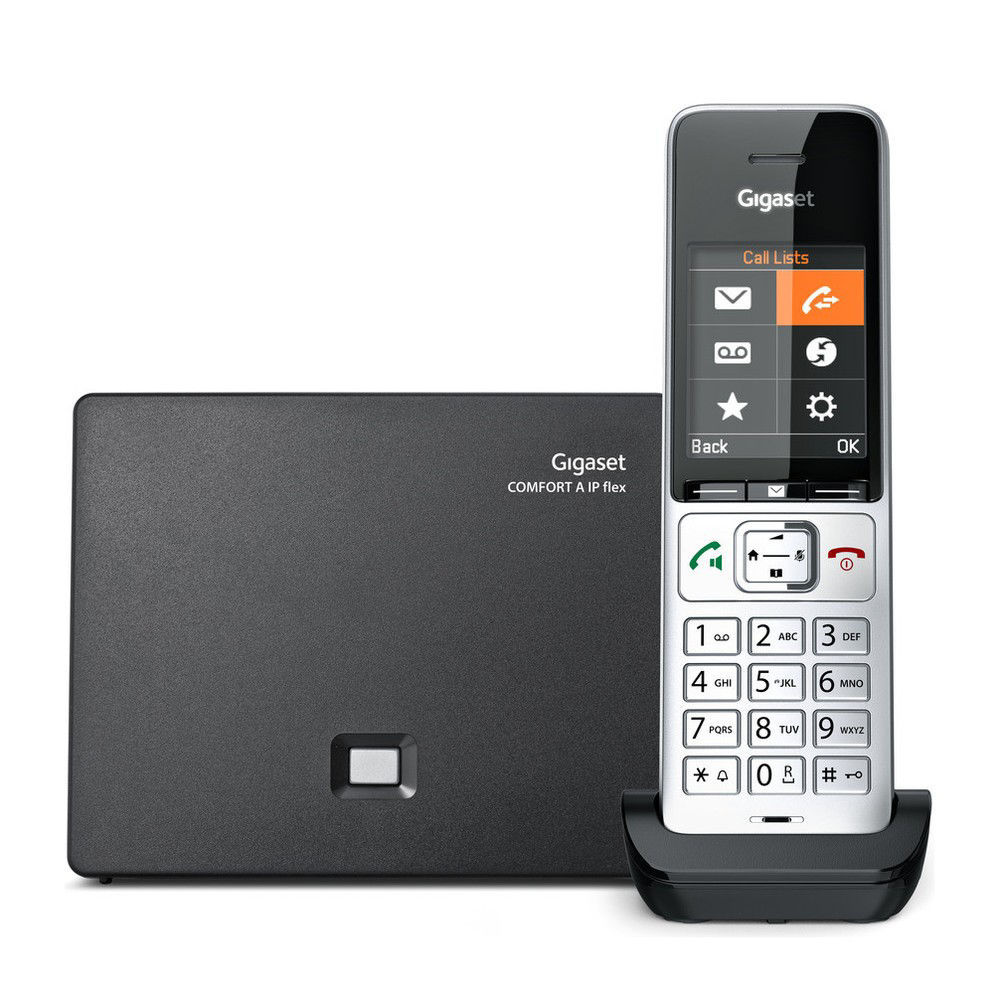 Gigaset COMFORT 500A IP flex
Estimated market price

$96.15

Note: Prices are rounded and shown in US dollar as a reference only. You may or may not be able to pay in US dollar. See more details during checkout.
Cordless phone with VoIP and analog landline base featuring a large display. Can handle 1 landline number, 6 IP telephone numbers and 2 simultaneous calls. Phonebook with space for 200 contacts. 3 answering machines with space for 55 min. messages. iF Design Award 2022.
Product Information
Article name
Gigaset COMFORT 500A IP flex
Number of telephone numbers (analogue)
1
Calls in parallel (analogue)
1
DECT Standards
DECT, GAP, CAT iq 2.0 (handset), CAT iq 2.1 (handset)
Interfaces internal
LAN Port, Headset connection 3,5 mm
ECO DECT
Autom. reduction of transmission power, Radiation-free in standby mode, Low energy consumption
Features
Answering maschine
Gigaset GO Features
Gigaset.net worldwide telephony, Gigaset GO Apps, Online Services, E-Mail Notification
Standby time up to (h)
320
Address book # entries, (name, surname, 3 numbers, date-reminder, sounds)
200
Individual ringertones for VIP entries
Yes
Room monitoring (Babyphone)
Internal (second handset required), External
Direct dial (Babycall)
Yes
Blacklist (number of entries)
70
Anonymous call suppression: Calls without CLIP number are only indicated visually
Yes
Day / night mode: Timed ringtone deactivation on handset
Yes
Optical call signaling
Illuminated display, Flashing send key
Number of Expandable Handsets
6
Number assignment for incoming and outgoing external calls
Yes
Number assignment for incoming and outgoing internal calls
Yes
Phone-/Adressbook-transfer internal via DECT (handset to handset)
Yes
Internal transfer of external calls, conference circuit, call back
Yes
Sound Quality / Accustic Features
HD Voice (wideband voice)
Handsfree talking
Convenient hands-free talking (full duplex quality)
Handsfree talking handset / base
Handset
Adjustable Volume
Via Menu
Display Type
Color Display
Dimensions (H x W mm)
49 x 37
Diagonal spread (inch)
2.2
Resolution (px)
220 x 176
Display of caller
Display of caller's number (CLIP)
List of last # missed calls with time and date
20
List of # outgoing calls with time and date
20
List of # received calls with time and date
20
List of # all calls with time and date
60
Multilingual menu (several display languages)
Yes
Time / Date displayed
Yes
Easy handling with navigation key
Yes
Message indicator key
Yes
Recording time up to … min.
55
Number of answering machines
3
Answering and recording function
Yes
Answering function only
Yes
Multilingual phrases in local languages
Yes
Languages answering machine
2
Handset, H x W x D in mm
161 x 52 x 26
Handset, weight incl. Accu in g
115
Base station, H x W x D in mm
105 x 132 x 46
Base station, weight in mm
120
Charger, H x W x D in mm
35 x 64 x 63
Redspot has a setup guide for this product.