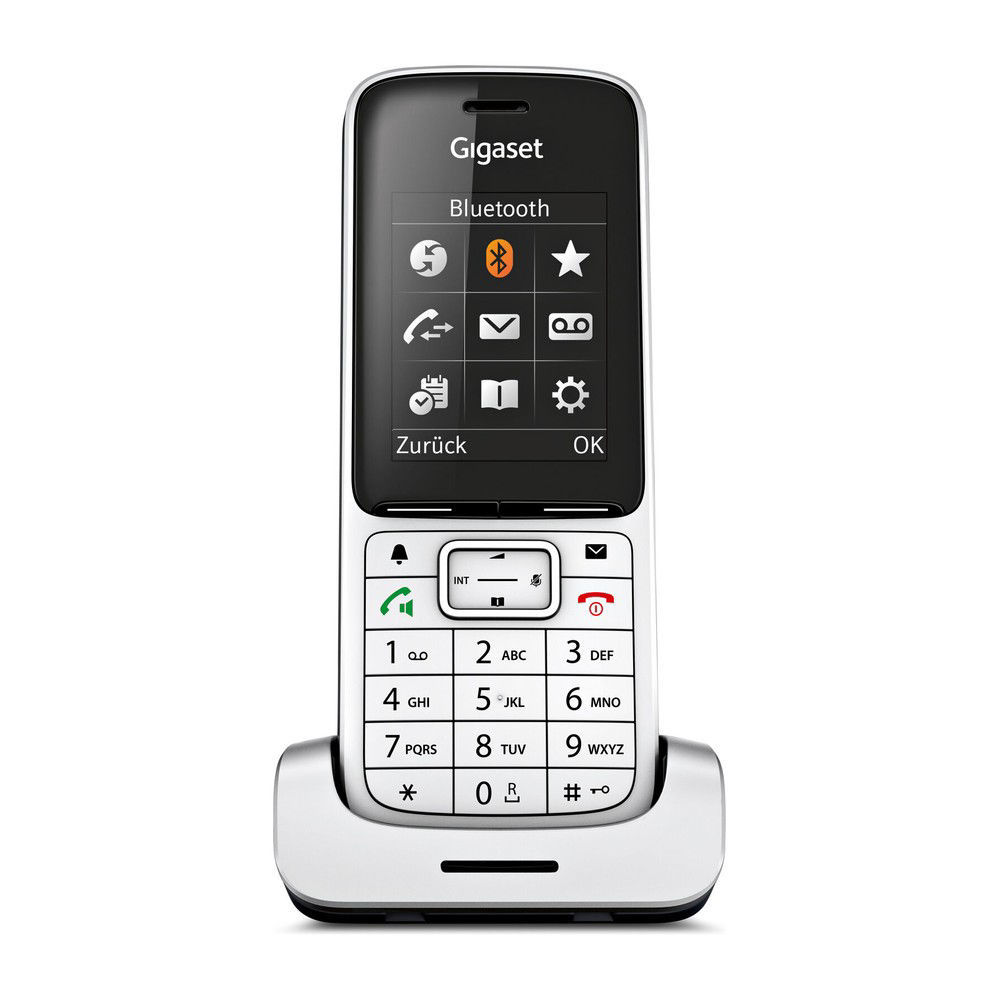 Gigaset SL450HX Handset w. Bluetooth
Estimated market price

$121.00

Note: Prices are rounded and shown in US dollar as a reference only. You may or may not be able to pay in US dollar. See more details during checkout.
Compact DECT wireless handset with aluminium frame, large TFT colour display (2.4"), an extra large address book for up to 500 contacts (vCard) with 3 telephone numbers each, excellent acoustics with audio profiles that can be set quickly using function keys, Bluetooth® 2.0 and micro USB for data synchronisation with PC.
Product Information
Article name
Gigaset SL450HX
Connection
Analog, ISDN, VoIP
DECT Standards
DECT, GAP, CAT iq 2.0
Interfaces internal
Bluetooth®, Micro-USB, Headset connection 2,5 mm
ECO DECT
Autom. reduction of transmission power, Radiation-free in standby mode, Low energy consumption
Gigaset GO Features
Gigaset.net worldwide telephony, Gigaset GO Apps, Online Services, E-Mail Notification
Standby time up to (h)
200
Address book # entries, (name, surname, 3 numbers, pictures, date-reminder, sounds)
500
Individual ringertones for VIP entries
Yes
V-Card transfer, mobile to handset via Bluetooth®
Yes
Adressbook synchronization via QuickSync (Outlook, Google-Contacts)
Yes
Automatic redial function in handset
Yes
Room monitoring (Babyphone)
Internal (second handset required), External
Direct dial (Babycall)
Yes
Optical call signaling
Illuminated display, Flashing send key
Number assignment for incoming and outgoing external calls
Yes
Number assignment for incoming and outgoing internal calls
Yes
Phone-/Adressbook-transfer internal via DECT (handset to handset)
Yes
Internal transfer of external calls, conference circuit, call back
Yes
Sound Quality / Accustic Features
HD Voice (CAT-iq certified), HD Voice (wideband voice)
Handsfree talking
Convenient hands-free talking (full duplex quality)
Handsfree talking handset / base
Handset
Display Type
Color Display
Dimensions (H x W mm)
49 x 37
Diagonal spread (inch)
2.4
Resolution (px)
240 x 320
Display of caller
Display of caller's number (CLIP) with picture (Picture CLIP)
List of last # missed calls with time and date
20
List of # outgoing calls with time and date
20
List of # received calls with time and date
20
List of # all calls with time and date
60
Multilingual menu (several display languages)
Yes
Time / Date displayed
Yes
Easy handling with navigation key
Yes
Message indicator key
Yes
Handset, H x W x D in mm
130 x 51 x 19
Handset, weight incl. Accu in g
104
Charger, H x W x D in mm
70 x 59 x 29